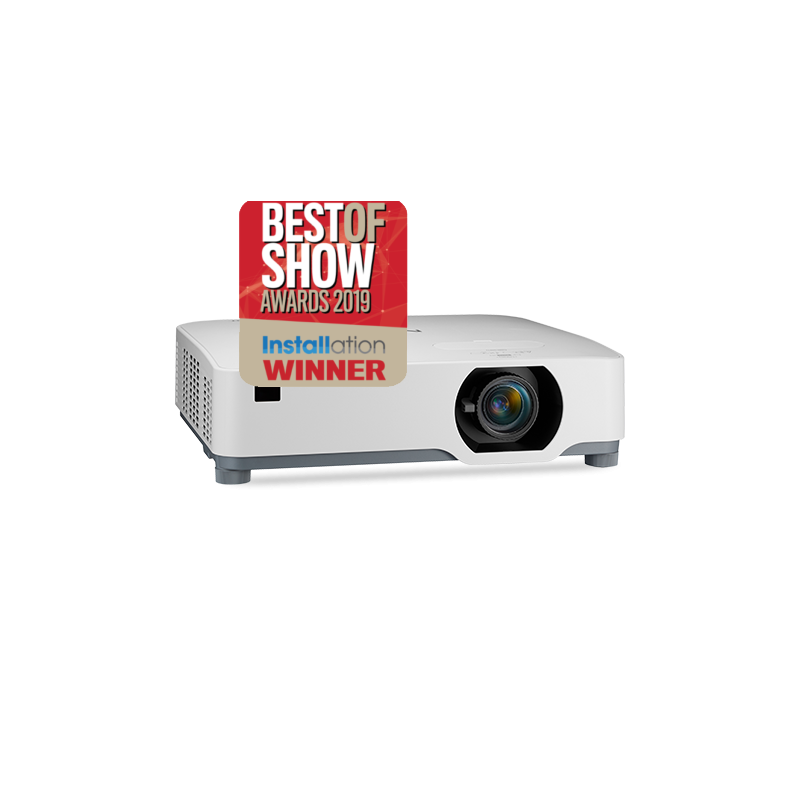  
NEC P525UL Projektor
Visible yet noiseless – bringing a sense of calm to your meeting spaces
Scalable visualisation has never been so silent. With an outstandingly low noise level of just 22dB, the P525UL is quieter than the ticking of a watch.
Technologies
20W Audio
Powerful 20-watt speaker provides volume needed for large rooms
Advanced AccuBlend™
Ensures detailed images when non-native resolution sources are connected to the projector.
Auto Power On
Powers on the projector as soon as it is plugged into a power outlet.
AutoSense™
Intuitively syncs the projector with most computer signals and features one-touch image optimization.
Built-in Wall Color Correction
Presets provide for adaptive color tone correction to display properly on non-white surfaces.
Carbon Savings Meter
Calculates the positive effects of operating the projector in ECO Mode, which is encouraged by an optional message at startup. A green ECO Mode button on the remote control makes the switch easy.
Cornerstone Correction
Allows for horizontal, vertical and diagonal image correction for aligned images even when the projector is set up at an angle to the screen.
Crestron Roomview
Provides unified management, including the ability to switch the power on and off for multiple projectors connected to a network.
Direct Power Off
Protects the lamp when the projector is accidentally unplugged or the power strip is switched off. Enables the fan to continue running until the lamp is properly cooled down. Internal sensors monitor lamp temperature and prevent the lamp from powering on.
Dual HDMI inputs (with HDCP)
Ensure quick switching between presentations and allows for simultaneous digital connections of high-definition sources, such as Blu-ray players, cable boxes, satellite receivers and computers
Dust-Resistant Design
Sealed optical block minimizes the effects of dust, helping to ensure the delivery of crisp, distortion-free images.
ECO Mode™
Extends lamp life, lowers audible noise and reduces total cost of ownership.
Landscape/Portrait Capable
Allows for distortion-free display of content in various orientations, creating new application opportunities.
Lens Shift
Vertical and horizontal lens shift enables flexible projector placement.
Portrait Mode
Ability to install a projector in its side to create a 10:16 portrait image
Power Management
Enables projector to automatically turn off when an incoming signal is not detected from any of the inputs.
Quick Startup and Quick Power-Off
Allows users to begin presenting within 3 to 4 seconds and allows immediate power off with no cooling required after shutdown to ensure efficient energy usage.
Remote Diagnostics
Enables the user to monitor and make adjustments to the projector from a remote location.
Tilt-Free Installation
Allows the projector to be rotated freely (360°) in order to point up or down depending on the installation requirements.
USB Viewer
Permits playback (without a PC) of presentations or display images stored as JPG files from a USB flash drive.
Variable Audio Out
Adjusts the volume of an external speaker system using the projector's remote control.
Virtual Remote
Used over the VGA cable to control the projector directly from a computer without the need for additional control cables.
Wired Network Connection
Integrated RJ45 connection for quick connection to the LAN (10/100 base-T capability).
Wireless LAN (Optional)
Allows you to transmit images from a PC wirelessly to the projector, eliminating the need for traditional cumbersome cables.