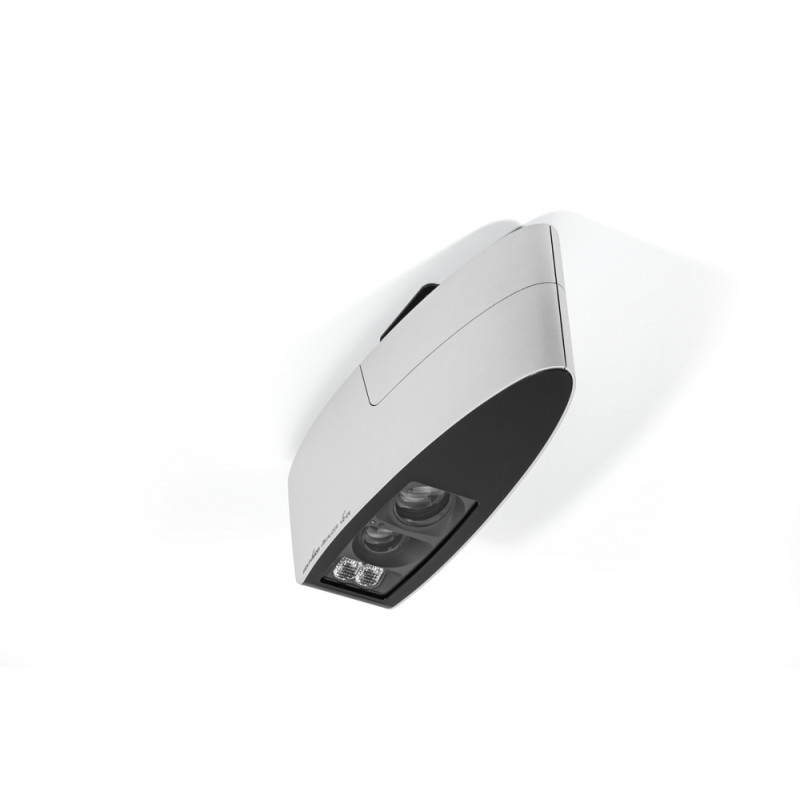  
Wolfvision VZ-C6 Dokumentkamera loft
Visualizer innovation on the Ceiling
The WolfVision VZ-C6 Ceiling Visualizer presentation system comes with a native 1080p HD camera and offers multimedia recording functionality with audio in HD, and integrated WLAN. It features WolfVision's unique Synchronized Lightfield, which provides for easy and intuitive positioning of objects, and just like WolfVision's other Ceiling systems, the VZ-C6 ensures that nothing obstructs the view between the presenter and audience during a presentation. 
The VZ-C6 enables entire presentations and lectures to be captured including the audio, and it's also compatible with WolfVision's vSolution Connect software. 
It can easily be used as a standalone lecture capture system if required, or alternatively can operate as a component part of a larger lecture recording system. 
An important component option of our vSolution, the VZ-C6 supports more effective communication using advanced but easy-to-use presentation technology.WolfVision VZ-C6 VisualizerWolfVision VZ-C6 Ceiling Visualizer
Keep your Table Free
The VZ-C6 is an elegant RedDot Design award-winning Ceiling mounted Visualizer, featuring our unique Synchronized Lightfield which provides for easy and intuitive positioning of display materials. 
lecture capture
Lecture Capture Made Easy
The VZ-C6 comes with onboard recording functionality that allows entire presentations to be captured in exceptional quality, including the audio. It's a quick and easy solution for in-house production of training videos or lecture capture - the VZ-C6 is an 'all-in-one' HD recording solution. 
Creating Unique Multimedia Presentations
Recording functionality is not limited to the Visualizer's own camera. External content such as PowerPoint, digital images, webpages, PDF's, etc. from a PC or tablet connected to one of the Visualizer's HDMI In ports can be easily recorded in 720p HD resolution with a frame rate of up to 30 fps. 
flexible memory options
Internal Memory / USB Stick External Memory
Recorded videos and pictures can be saved to the 8GB Visualizer internal memory which has enough capacity to store thousands of images, or an average of 10 hours of video footage (depending on the content). USB sticks or external hard drives can also be used to provide extra storage space if required. 
wireless BYOD
Convenient Wireless Connectivity
The VZ-C6 Visualizer comes with a WLAN stick (on request, free of charge), which provides wireless connectivity using either 2.4GHz or 5GHz channels. This provides for quick and easy connection to WiFi enabled smartphones or laptops, and also enables our vSolution Connect app to be used together with the VZ-C6. 
streaming
Efficient Knowledge Transfer via Streaming
The VZ-C6 Visualizer can stream out video and audio to computers, tablets or smartphones on the internal network or over the internet using either H.264, Motion JPEG, or RTP Motion JPEG modes. An external device receiving the Visualizer's stream can also be used as a control monitor. 
"Bring Your Own Device" - vSolution Connect
Synchronize your Visualizer with vSolution Connect our powerful, innovative app with a full multimedia control dashboard. This unique app allows all media types to be integrated and controlled from a single device, enabling materials stored either locally on the tablet or in Dropbox to be seamlessly added into presentations. 
More Information 
synchronized lightfield
Synchronized Lightfield
WolfVision's Synchronized Lightfield allows for very easy and intuitive positioning of objects. The illuminated part of the working surface is always identical to the pick-up area of the camera, so a user always knows exactly where to place objects or documents. When zooming in and out, the size of this lightfield changes accordingly. 
Depth of Focus
The VZ-C6 is equipped with a wide angle lens with very high depth of focus. This is very important for working with larger 3-dimensional objects. Even at high magnification, images are always sharp from top to bottom. 
Shadow Free
As the camera and the light projector are situated side by side within the Visualizer and follow the same path, shadows are almost completely eliminated. 
During a presentation, it is often necessary to write something on a document on the working surface or to point to a certain detail with a finger or a pencil. Ceiling Visualizers are perfectly suited for this, as there are practically no shadows created, that might otherwise cover up important details. 
optical zoom
12x Optical Zoom
The VZ-C6 comes with a premium quality high precision wide angle lens with 12x optical zoom factor. In combination with the 4x digital zoom the total zoom range of the new Ceiling Visualizers is 48x. This allows for the installation in rooms at a height of up to 3m (10'), and facilitates zooming in very closely, as well as picking up very large objects. The actual sizes of the largest and the smallest picture the unit can pick up depends on the installation height. Use the following link to calculate distance and image sizes: 
Distance Calculation Tables 
Distance / Zoom range calculation program 
High Resolution
The WolfVision VZ-C6 Ceiling Visualizer features a high definition CMOS 1080p Full HD camera with sRGB color precision and native 1080p HD resolution. The VZ-C6 records 30 frames per second in all resolutions, and an impressive 980 lines of resolution are visible in every part of the picture, including the edges.
 dry-erase working surface
Write on your Visualizer!
Self-adhesive dry-erase working surfaces are available as optional accessory items. Once fixed to a working plate you can easily write and erase using suitable whiteboard markers and erasers. This enables the Visualizer to be used as a whiteboard or 'digital flipchart', and of course this handwritten material can also be included in recordings. More Information